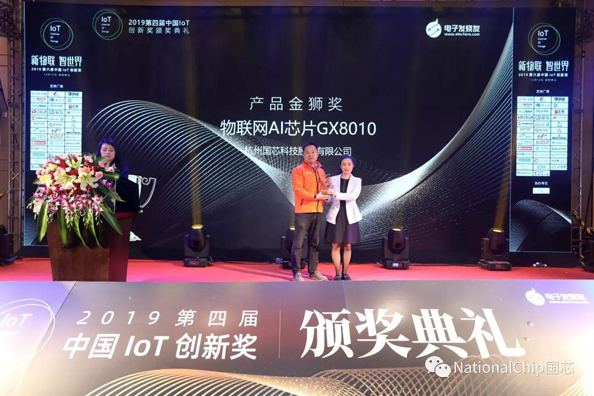 On December 12, the fourth China IOT conference was held in Shenzhen, and the high-profile "China IOT Innovation Award" was issued at the same time. The gx8010 chip of NationalChip won the "Golden Lion of products Award".
China IOT innovation award is sponsored by Huaqiu's leading electronic technology media enthusiasts. It aims to explore and commend the leaders with pioneering spirit and outstanding contributions to the enterprise in IOT industry, the outstanding technologies with innovative value and far-reaching influence, and the innovative products highly concerned and recognized by the market and industry users in the past year.
The award-winning gx8010 series of chips is the first Internet of things AI chip in the industry. It is an embedded SOC chip specially designed for the application of artificial intelligence and Internet of things. It is uniquely designed as a multi-core heterogeneous architecture, integrating the NPU neural network processor with independent property rights, DSP processor for voice signal processing and other modules. It has image processing capacity, high intelligence, low power consumption, low cost and full integration It can be used in smart speaker, smart home, smart car, smart toy and other application scenarios.
Gx8010 series of chips have attracted wide attention in the industry since launched. So far, it has reached cooperation with 360, Rokid, Mobvoi, iFLYTEK, Aispeech, Skyworth, TCL and other companies. Its mass-produced products include 360 AI Max smart speaker, Rokid panda smart speaker, Xiaoyu listen to voice TV stick, Haier voice air conditioner, Skyworth xiaopai bear -children's story machine, Dang intelligent investment Products such as shadow instrument and Haozhuo intelligent car assistant cover all kinds of Internet of things products, enabling AI for products in life, so as to "see", "hear" and "speak".