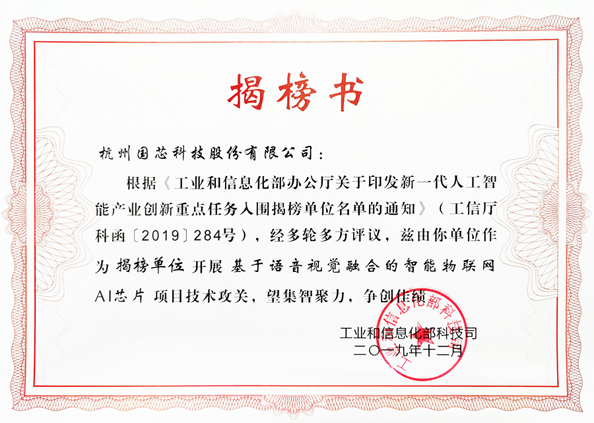 Recently, the general office of the Ministry of industry and information technology released the "list of shortlisted units and projects for key tasks of innovation in the new generation of artificial intelligence industry".
NationalChip's terminal neural network project, intelligent Internet of things AI chip based on voice and vision fusion, was ranked on the list.
Gx8010, the industry's first Internet of things AI chip released by NationalChip in October 2017, is an embedded SOC chip specially designed for the application of artificial intelligence and Internet of things. It is uniquely designed as a multi-core heterogeneous architecture, with an integrated NPU neural network processor with independent property rights, a DSP processor for voice signal processing and other modules. It has image processing capabilities, with high intelligence, low power consumption, low cost and full integration. It can be used in smart speaker, smart home, smart car, smart toy and other application sceneries.
Gx8010 series of chips have attracted wide attention in the industry since launched. So far, it has reached cooperation with 360, Rokid, Mobvoi, iFLYTEK, Aispeech, Skyworth, TCL and other companies. Its mass-produced products include 360 AI Max smart speaker, Rokid panda smart speaker, Xiaoyu listen to voice TV stick, Haier voice air conditioner, Skyworth xiaopai bear -children's story machine, Dang intelligent investment Products such as shadow instrument and Haozhuo intelligent car assistant cover all kinds of Internet of things products, enabling AI for products in life, so as to "see", "hear" and "speak". With the support of the unveiling project, NationalChip will continue to launch more AI innovative products.