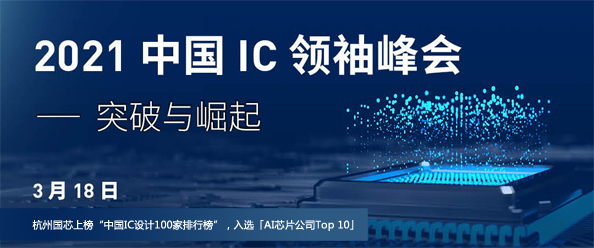 On March 18, 2021, the "2021 China IC Leadership Summit" jointly organized by the three major media EE Times, EDN, and Electronics Supply and Manufacturing-China (ESMC) was held in Shanghai. The "Top 100 IC Design Companies in China" was released at the conference, showing the 100 best IC design companies to the Chinese semiconductor industry. Hangzhou NationalChip was listed on the "Top 100 IC Design Companies in China" and was selected as the "Top 10 AI Chip Company".
Hangzhou Nationalchip Technology Co., Ltd. was founded in 2001. The company focuses on digital television and the Internet of Things artificial intelligence in the field of chip design and system program development. It has developed digital TV chip products all over the world and is the world's leading set-top box chip supplier. At the same time, it deeply cultivates the field of artificial intelligence, becoming the first to introduce a number of AI chips for the IoT, which covers the home, car and wearable scenes, with independent research and development of neural network processors, instruction sets, compilers, and other core technologies.
The Standard For Becoming the Top 10 AI chip Companies
- Priority selection of companies that have been listed or are applying for listing
- Has received multiple rounds of financing or strategic investment from industry giants
- Possess unique AI technology or AI chip architecture
- AI chip products have been mass-produced or commercialized
- Leading position in cloud AI training/reasoning, edge AI, intelligent voice, intelligent vision, or autonomous driving
Reason For Being Selected
- Hangzhou NationalChip: Set-top box chip developers are investing in low-power edge AI chips and AIoT voice chips for emerging areas such as wearables, smart homes and smart cars.
Related Links
- 解读"中国IC设计100家排行榜" (https://www.eet-china.com/news/202103181001.html)